Free shipping on orders over
$

160.00
.
The Vegan Bar
From: $5.00
With mental-boosting blueberries and coconut oil, this vegan meal-in-a-bar has no animal products but plenty of yumminess and nutrition, including vitamin B12.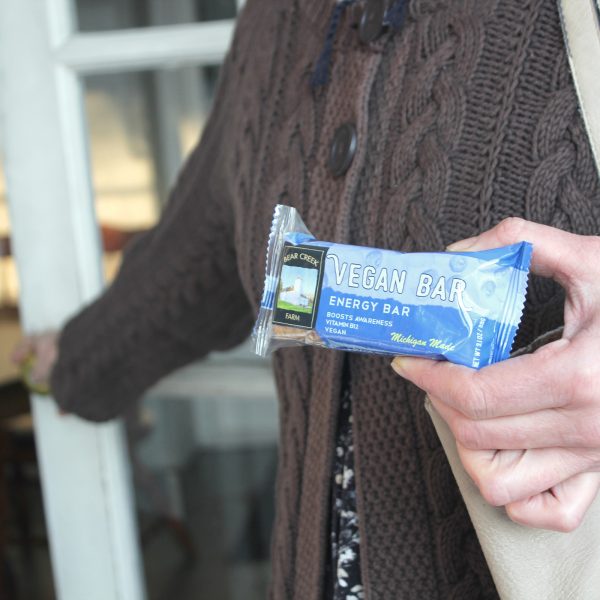 Have It For Lunch!
1 for $5, 3 for $12, 12 for $42.
---
Ingredients:
Peanut butter (peanuts, salt), pure maple syrup, oats, coconut oil, blueberries, puffed rice (rice, sugar, corn syrup, salt), coconut flour, almonds, cashews, peanuts, golden ground flax, natural blueberry flavoring, guarana seed powder, vitamin B12 extract, sea salt, baking soda.
Nutrition Facts:
Our bars are about twice the size of an average energy bar, twice the cost, twice the calories.
Buy 1 for $5, 3 for $12, or 12 for $42
Specifications:
| Package | Weight | Size (in) |
| --- | --- | --- |
| Single | 3.1oz / 88g | 4.5x2x1 |
| Pack/12 | 44oz / 2.75lb | 5 x 8 x 3.5 |
| Case/48 | 11.5 lbs | 12x9x7 |
---
Questions & Answers:
Energy Bars
We segment the energy bars in half, and the nutrition facts are based on one segment for an equal comparison with other energy bars on the shelf. You could eat a half at a time. We have not found many people who can eat only half – you're welcome to try.
We use only local maple syrup and honey, high-quality sweeteners. These count as "Added Sugars" on the nutrition facts, which range from 22-26 grams per bar, depending on the flavor. Carbohydrates give quick-burning energy for exercise or as a meal replacement.
Around 400 calories. Our energy bars give energy in several forms – quick burning carbs, slow burning fats, and long-lasting protein. They are about twice the size, twice the weight, and twice the price of your typical factory-made bar.
Our bars are shelf-stable, and we stamp an expiration date of 1 year after packaging. Just before sealing, we drive out oxygen with a burst of inert nitrogen gas that keeps them fresher longer. They won't get hard like a typical energy bar. They taste so good, you'll eat them long before before they go bad.
Yes. We mix, bake, and package our bars in our commercial bakery on the farm.
Only logged in customers who have purchased this product may leave a review.