Free shipping on orders over
$

160.00
.
Blueberry Granola
From: $10.00
perfect for breakfast
For breakfast, these blueberry granola chunks are a great addition to your yogurt or milk. Or grab a chunk for a snack. Blueberries are the king of anti-oxidant foods, low in calories, and high in nutrition. And flax seeds have omega-3 essential fatty acids, "good" fats that help your heart to be healthy.
The small 4 oz size has been discontinued. Large size: 1 for $10, 2 for $18, 8 for $64.
---
Ingredients:
Rolled oats, maple syrup, butter, quick oats, almonds, mascavo, dried blueberries, milk powder, ground flax, natural flavoring, sea salt.
Nutrition Facts: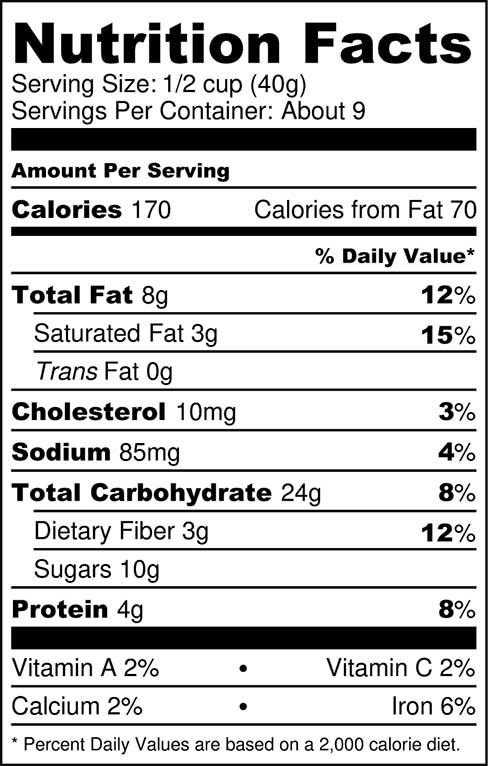 Nutrition values are based on portion size.
Specifications:
| Package | Weight | Size (in) |
| --- | --- | --- |
| Small | 4oz / 113g | 3×2.2×6.2 |
| Large | 12oz / 340g | 4.3x3x9 |
---
Questions & Answers:
Granola
Each has its own following: Ginger Turmeric is the most unique. Blueberry is a nice breakfast granola, along with Cherry Almond. Maple Pecan is a traditional flavor that works with everything. Mango Tropical is the slowest, but not to be forgotten and a favorite of some.
Mascavo is an unrefined brown sugar from sugar cane. We have friends in Brazil who supply it to us.
We use high-quality sweeteners: local maple syrup and raw unprocessed cane sugar from Brazil called mascavo. While there is some small amounts of other sugar in the ingredients we buy, we do not use white processed sugar. The nutrition label for each flavor shows the precise amount but it ranges in 8 to 11 grams.
A 12oz resealable bag and a single-serve 4oz bag. We also offer a 5-lb bulk box once you become convinced you like it.
None of our ingredients contain gluten, and oats are naturally gluten-free. However, our products are not certified gluten-free, so if you are very sensitive to gluten, we cannot recommend our products to you.
Only logged in customers who have purchased this product may leave a review.